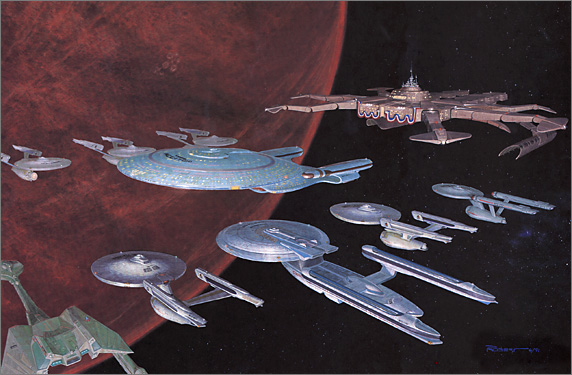 "MAIDEN VOYAGE"
© Andrew Probert
Acrylics:__Actual printed area: 17" x 11.25"
---------------------
This is how I envisioned the ceremonious launching of the first operational Galaxy Class Starship
while in synchronous orbit over the fabrication facilities of the Utopia Planita Fleet Yards, -Mars.
------------------
The orbiting Assembly Station is a modified Sternbach-designed facility, sporting traditional
red, white, & blue (plastic) bunting for the occation. _The attending ships are proudly aligned
along the ship's launch corridor in salute to the fleet's newest member. _Three of them have
even been repainted as a tribute to earlier ships which carried the same name as the vessel
being launched.
You'll even see a former enemy's new ship, which also carries the same markings as this honorguard.
---------------
This is a 300-piece LIMITED EDITION
------------------